Blackout Film Festival NYC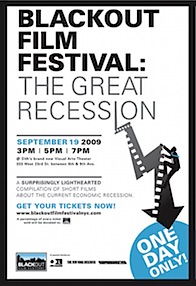 The Blackout Film Festival is New York City's only event-inspired film festival and it returns on Sept. 19, 2009 with a 90 minute program of short films centering on the theme: The Great Recession.
Filmmakers around the globe have submitted a surprisingly light-hearted group of films about the current economic recession that we are extremely excited to share. I saw your coverage of one of my favorite New York film festivals, the Bicycle Film Festival, and I think the nature of this year's event and the films we are screening will be of interest to your readers.
Check it out Saturday, September 19th with screenings at 3pm, 5pm and 7pm at SVA's new Visual Arts Theatre. Tickets can be bought online here.