Exclusive Thom Yorke Interview!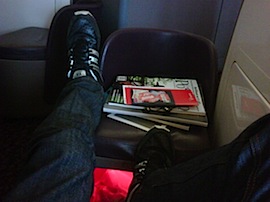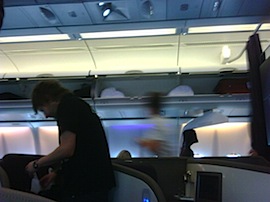 I sat down next to Radiohead frontman Thom Yorke for more than 10 hours yesterday on a flight from London to L.A. (well, actually, he sat down, I was sitting first). We didn't speak about his solo career, we didn't speak about the long four hour delay from the snow in London. We also didn't talk about Johnny Greenwood's mission to save the world. We didn't speak about his upcoming tour, or the sales of his In Rainbows record.
He was close enough to reach out and tap on the shoulder, snap photos of, and be a really annoying press figure. But I behaved myself. Truth is, I kind of felt bad for the guy as he was bombarded earlier on in the flight by a happy-go-lucky fan that recognized him.
At the end of the flight, I did manage to get in a quick interview though, it went like this:
Josh Spear: I guess this would be an ironic flight to listen to The Bends record on…
Thom Yorke: Ah, uh, ewwww..
Josh Spear: Well, thanks for making the music…
Yes, I know, this is some kind of invasion of privacy. It was just too funny not to post.