Gift Guide: Art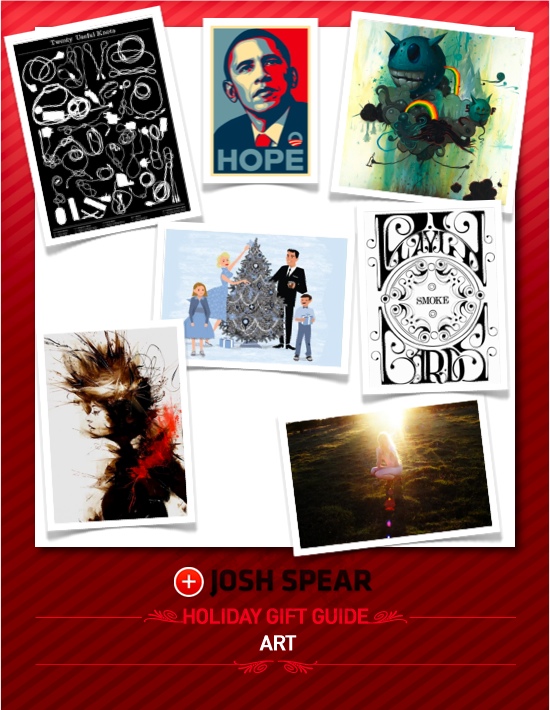 Chuck Anderson Wondering Off into Space: Read JS Review | Buy It ($30)
A new book by one of our favorites featuring Chuck's catalog of illustrations and photographs, new and old. Themes of his works include sharks, space, light bubbles and colors that make you think you are traveling through time. Just a note, it comes out early December.
Lina Scheynius: Read JS Review | Buy It (€12)
The very intimate photographer has collected some of her most telling images into a book. The very minimalist design let the pictures speak for themselves: romance, travel, haircuts, sleep, nature and the capturing of light that will stop you in your tracks. Plus its super cheap.
Russ Mills: Read JS Review | Buy It (£25)
Just a warning, his prints are hard to get hold of. They sell out quick and come in limited quantities because his prices are great and his artwork is better.
Obey (Shepard Fairley): Read JS Review | Buy It ($25-$50)
We all agree it was a good year for Obama, but it was also an amazing year for Shepard Fairley. His Obama Hope print has become a fixture not only of the art world, but of the political world. Unfortunately, his the famous print is sold out, but Obey still has some amazing prints.
Jeff Soto Storm Clouds: Read JS Review | Buy It ($41)
Robots and rainbows. So many of Jeff's paintings begin that way, but then they become so much more. Storm Clouds is a journey through Jeff's world, as dark and innocent as it can be.
Dyna Moe's Mad Men Illustrations: Read JS Review | Buy It ($3-$21)
These are obviously perfect for the holidays. Really classy 60s style art — even if you aren't a fan of the show. Perfect for your cards and thank you notes. A few larger prints are also available for a few extra bucks.
Michael Latimer Surrogate Print: Read JS Review | Buy It (£60-£90)
Michael might be most known for his skateboards and t-shirts, but he wowed everyone with his Surrogate print. We called it a bit of a Murakami nightmare when we first reviewed it, but it has become one of our favorite prints of the year. Available in red and blue.
Si Scott Smoke and Mirrors: Read JS Review | Buy It ($5.95)
Everyone needs a deck of playing cards, especially for family reunions. Might as well make have a trick up your sleeve. And by trick I mean Si Scott designed cards. His beautiful matching decks (one smoke, inverse colors for mirror) are the only ones you need, hands down.
Design Supremo: Read JS Review | Buy It (£4-£270)
Just to cover all bases, the Design Supremo print factory covers a large pool of artist and their creations. If the other items on this list hasn't set you off, browse through their collection of prints, clothing, thumb drives, coffee mugs, buttons, cards, books … well, everything. If you can't find something there to give … bah humbug.