Gift Guide: Cell Phones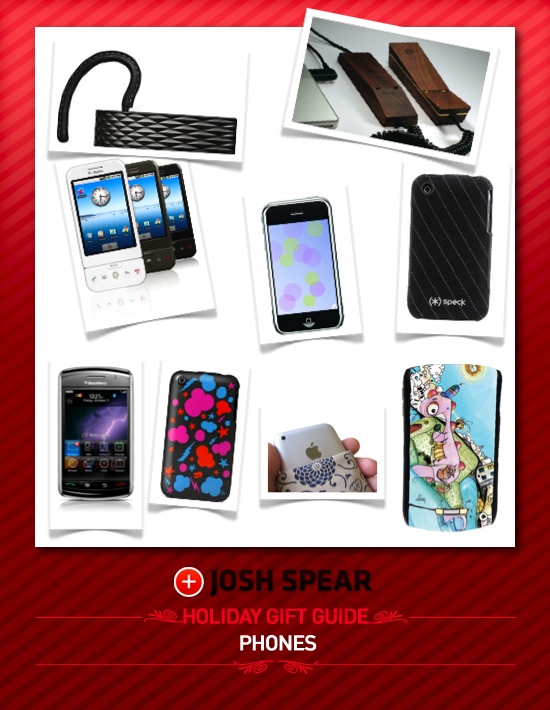 Blackberry Storm: Buy It ($199)
We love the touchscreen functionality of the iPhone, but we're still not floored by its usability when it comes to email or texting. Blackberry's newest phone gives us that ability to get tactile with our phone but also features a haptic keyboard that makes sending coherent texts that much easier.
T-Mobile G1: Buy It ($179)
Google's first phone is geared for those who are pathologically undecided. The phone – which comes in bronze, black, and white and runs on Google's open-source Android system – features both a touchscreen and a full QWERTY keyboard (a touchscreen keyboard is coming early next year) that slides out. As a result, it's just a glorified Sidekick that's still kind of glorious.
Foof Cases: Read JS Review | Buy It ($13)
These cases come in a variety of gorgeous fabrics and protect your phone by holding it snug and wrapping it in satin. We're totally jealous of our phone. They're also available for your other portable Mac items.
Speck Cases: Read JS Review | Buy It ($30)
They offer a wide range of designs, but their newest are so preppy they make us want to rename ourselves Muffy and go play some croquet — in a totally non-judgmental way.
Jawbone Bluetooth Accessory: Read JS Review | Buy It ($130)
You may be a Bluetool, but you don't have to look like one all the time — at least not with the sleek device that's also incredible at eliminating background noise. Ok, so you still look like a tool, but if it's between sounding good and looking good…
Incase x Parra iPhone Case: Read JS Review | Buy It ($60)
Stay protected, stay sexy, and grab a colorful — but expensive — hardshell case produced by Dutch artist Parra for reliable manufacturer Incase. Our phone gets to stay safe and we get to enjoy the acid flashbacks.
Hulger Handsets: Read JS Review | Buy It ($40 – $190)
Sometimes we long for those good old days of ginormous handsets. Hulger captures our nostalgia by wirelessly connecting or plugging a nice chunky receiver into our cellphone or our PC to chat via Skype.
Brian Eno x Bloom iPhone App: Read JS Review | Buy It ($4)
Coutesy of Brian Eno, Bloom lets you create sounds and images just by touching your screen. It also features nine mood settings — though we don't think holiday stress is one of them.