Gift Guide: Fashion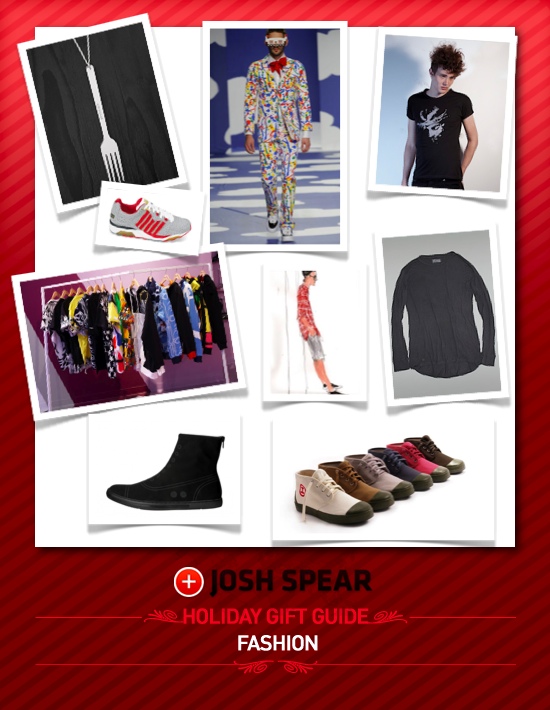 Alex & Chloe: Fork You Necklace: Read JS Review | Buy It ($50)
Because sometime you just can't say it out loud — especially in the same breath as "Happy Holidays."
Bumboo Tees: Read JS Review | Buy It ($58 – $68)
Bamboo tees are worth their weight in … oh, that's right, they don't weigh anything. Awesome.
Jean-Charles de Castelbajac x JC in the Sky with Diamonds Collection: Read JS Review | Buy It
Wearable … nah. But I have no doubt of this collection's historical and artistic significance, so buy something before it winds up at Christie's, even if it's just a minifig.
Reebok Bowery Pop-Up Shop: Read JS Review
You only have until Dec 14th to make it to Reebok's NYC Pop-Up, but shopping after then sucks a big, fat Santa anyway — and also makes you a slacker. Get thee to the Eighties (eh, 169 Bowery).
Richard Haines Sketches: Read JS Review | Buy It
We didn't think to ask Richard if this gift was even a possibility (oops), but a stylee friend would love a Haines sketch … or better yet, a sketch of him/herself by Haines.
Saint Augustine Academy Reverence Tee: Read JS Review | Buy It ($75)
Look close enough at this tee and you'll find God. And you thought it was just fashion.
Atmos x K-Swiss: Read JS Review | Buy It
You have to hand it to K-Swiss, the often forgotten brand is being "reborn" and what better way to make a mark than to collaborate with Japanese powerhouse Atmos? Great attention to detail and subtle but distinctive colorways make these kicks a sure bet.
Ospop Shoes: Read JS Review | Buy It ($76)
I know they didn't originate it but for me the whole clothing with a story concept started with Trovata. Since then, brands like Ospop have put their own spin on things. These shoes are modeled after the same ones used by Chinese blue-collar workers. Needless to say they are updated for durability and comfort. Check them out!
Gram Designs Shoes: Read JS Review | Buy It ($122)
Hailing from Sweden, Gram shoes has been a perennial SuFu (Superfuture) favorite. The interesting materials, most notably waxed cotton, give the shoes a uniqueness and sense of character, not unlike raw denim.
JackThreads: Read JS Review | Buy It
If you're still wandering up and down the aisles at Macy's like someone in home furnishings lobotomized you, try JackThreads. If you still can't find a decent fashion statement, we throw our hands up. Or just throw up. Or both.