Gift Guide: Gadgets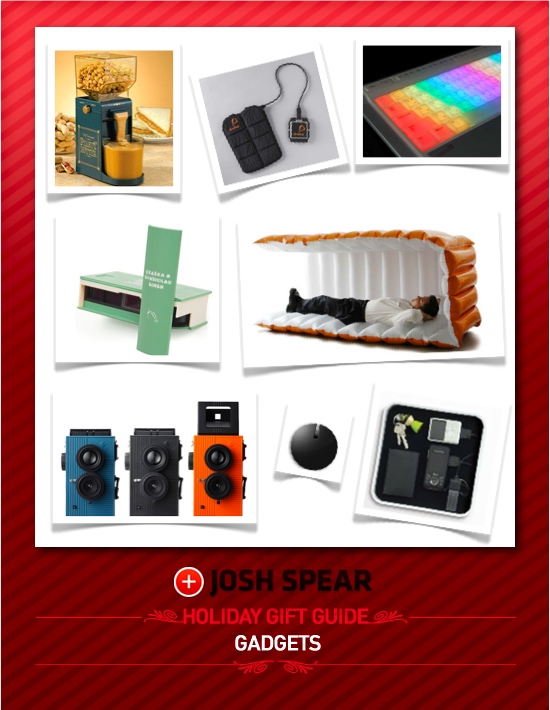 Roku Netflix Player: Read JS Review | Buy It ($100)
If waiting two days for the next film in your queue to arrive by snail mail is unacceptable, now you can take a deep breath and stream Waiting To Exhale without ever opening an envelope.
Secret Book Camera: Read JS Review | Buy It ($55)
For that ex-spy in your life who misses explosive chewing gum. It's a book! No, it's a camera. It's a camera, indeed.
Blackbird, Fly TLR Camera: Read JS Review | Buy It (About $126)
Anyone who doesn't need to resort to secrecy to snap photos and enjoys the medium of film should take to this wonder of lomography.
Peanut Butter Machine: Read JS Review | Buy It ($50)
Really you haven't lived until you've made your own peanut butter … cashew butter … and walnut butter. Anything we're leaving out?
Magneat: Read JS Review | Buy It ($10)
Even if you're not overly clumsy, chances are your flailing arms send your iPod headphones flying out of your ears every once in awhile. Well, not on Magneat's watch.
LED Rainbow Keyboard: Read JS Review | Buy It ($35 – $200)
There are so many colors in the rainbow and oh so many keys on your keyboard.  Why shouldn't there be some sort of decorative correlation?  For good measure you can film yourself making a finger version of Michael Jackson's famous "Billie Jean" video.
Vizio Java HDTV: Read JS Review | Buy It ($730)
While Green, Red, and Blue are most certainly the most festive holiday colors the Java-hue of this sleek piece of equipment is certainly the sexiest.
The Sanctuary: Read JS Review | Buy It ($130)
There's no need to fumble around making sure you've got all the right power cords on hand anymore.  This electronics organizer contains a variety of chargers that are compatible with over 1500 devices.
Ardica PDA Warmers: Read JS Review | Buy It ($145)
Ardica PDA Warmers make sure trekkers don't get left out in the cold when they're out for days in frosty conditions. While it's a plus that it keeps bodies warm, it's really the ability to hold 11 cell phone charges and 20 iPod charges, as well as keep a precious GPS or PDA working, that puts this as a must-have on our holiday list.
Nappak Sleeping Cube: Read JS Review | Buy It
If you like taking naps anywhere you please but don't think air mattresses afford you enough privacy, the Nappak allows you to avoid at least one side of the room. For total privacy, wedge it against the wall!