Gift Guide: Travel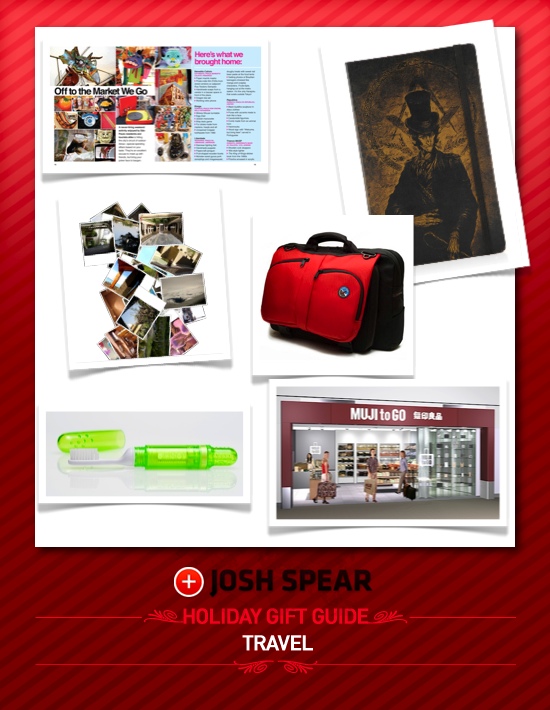 OHSO Presto: Read JS Review | Buy It ($7-$9)
The world's sexiest toothbrush gets a colorful remake in bright, see-through colors. It's a good idea to give it to a girlfriend or regular couch-crasher who gets creeped out by your slimy toothpaste tube. The OHSO Presto comes out after the holidays, but their other equally brilliant brushes are on sale now.
Tom Bihn Checkpoint Flyer Briefcase: Read JS Review | Buy It ($220)
This Checkpoint Flyer Briefcase might possibly be the perfect laptop bag. It makes the airport security process a bit less painful with a removable, clear pocket for a laptop and a separate compartment for everything else.

Total Sao Paulo: A Guide to the Unexpected ($27)
From what you've read from my reports on JoshSpear.com about Sao Paulo, this fascinating city is becoming a hot South American destination. Total Sao Paulo: A Guide to the Unexpected (Unhinged Jaw Press) is a guidebook written by yours truly and presents the metropolis' best gems, from hidden bars to a church full of wax skulls. It comes out April 2009 "" a perfect raincheck present.
Modofly Moleskines: Read JS Review | Buy It ($36)
A Moleskine is a necessary part of any traveler's tool kit. Modofly ups the ante with their neat, laser-etched Moleskine notebooks in multiple sizes with hot new cover art.
Urbane Nomads: Read JS Review | Buy It
For those who've traveled to every corner of the earth, Urbane Nomads promises to put together an itinerary that will blow away minds — from a safari in Burma to tasting cheesecake in a bakery owned by a Malaysian ex-premier. Hands down, there is no better gift than one of adventure … if you can afford it, that is.
Muji To Go @ JFK: Read JS Review | Buy It
So you just flew in on the international red eye and realized it's Christmas Eve day. First, it's probably time for a vacation. Second, there's Japan's favorite minimalist necessity store in Terminal 5 of JFK in New York. Now you can fill your son/daughter/nephew's stocking without them being the wiser. But be prepared to answer questions about Japanese Santa.