Gift Guide: Watches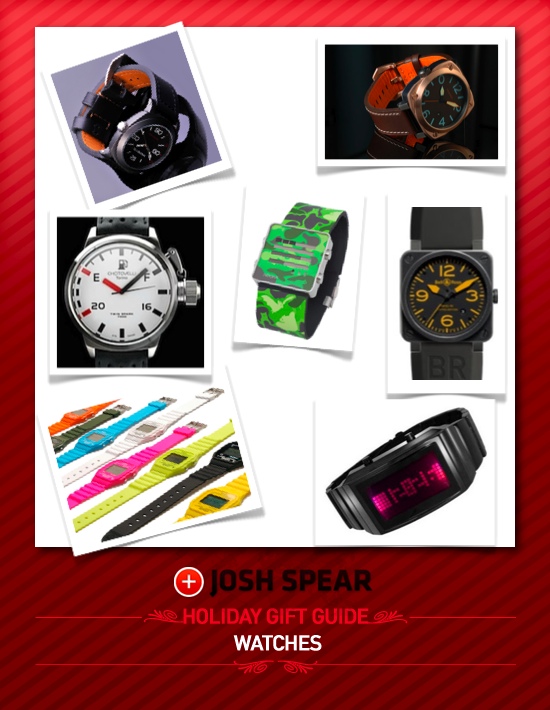 TSOVET: Read JS Review | Buy It ($435)
Great case designs and contrasting finishes paired with affordable prices make these watches the perfect gift.
Timex 80: Read JS Review | Buy It ($67)
It's funny how things come full circle. I used to scoff at oversized G-Shock watches and now I find myself rocking one instead of the Omega or Sinnn. Timex has brought back a classic with the Timex 80's. Add one to your wishlist up and it'll be like having some New Old Stock (NOS). Nostalgic and intriguing at the same time.
Magrette Timepieces: Read JS Review | Buy It ($299)
This watch started quite a stir when we posted it. Homage aside, they are attractive, keep time, and are comfortable to wear all day. For the price, they offer excellent value and are not your "typical" watch.
Nooka: Read JS Review | Buy It ($250)
Specifically for the urban jungle (lions can sense fashion forwardness), Nooka takes the digital out of your Casio watch, stomps on it, kicks it a few times, and then puts it back into a sleek timepiece.
Bell & Ross: Read JS Review | Buy It
Everybody knows that the Swiss do two things better than anyone else: makes watches and remain neutral. And they're also good at banking. So three … three things.
Chotovelli E Figli: Read JS Review | Buy It
Generations of watchmakers in this Italian family have preserved the Chotovelli tradition, but it was the last generation to take these classic chronographs to the next level.
TokyoFlash Negative: Read JS Review | Buy It ($175)
Japan is home to some seriously futuristic designs, but we find the TokyoFlash Negative watch to be the most straightforward of the space age lot. It's kind of like time traveling to the distant year 2011.