Growing Up Hip Hop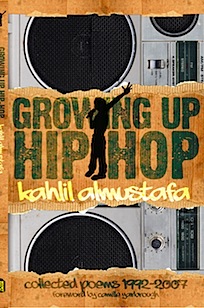 Kahlil Almustafa is from Queens, a place he describes as being located between New York City and Nowhere. "[It's] now overpopulated with Crown Fried Chickens, Popeye's Chickens, Chester's Chickens and take-out Chinese food stores that sell chicken wings and French fries as if it were the national dish of China. Queens, the home of bootleg DVD collections, 99-cent stores, birds chirping, sirens blazing, subprime mortgage crisis, suburban schizophrenia."
If you didn't notice, Almustafa has a way with words. His book Growing Up Hip Hop has been in a stack of books I've been meaning to check out for a long time"" and I'm damn glad I pulled it aside this evening and dug right in.
The collection of poems he's written over the last 17 years deals with everything from growing up in the "middle" of Queens ("I grew up in the middle: a middle class, middle child, somewhere in between ghetto and bougie, revolutionary and the Cosby's, gangsta and nerd, hip-hop…"), falling in love, losing his mother to AIDS and this weird relationship the world seems to have with hip-hop and poetry.
And he didn't want to be a rapper, because he's a poet. But his concern for hip hop culture is apparent in between every line he writes.
Originally inspired by a Langston Hughes book of poetry he found on his (fake) cousin's coffee table, Almustafa's poetry is gritty yet eloquent, deep but funny, and all-around inspiring.
After all, as he says in his poem "Hip-Hop", "what else but hip-hop could have one hundred plus Princeton/Harvard/Yale upper-middle class-upper class kids wide-eyed and mesmerized standing in front of two to three six-foot one BLACK MEN shouting directions to them through amplified sound, throw your hands in the air, and wave 'em like you just don't care…"
Perplexing, yes.
If you like poetry, order his book. If you're curious about what's happening to hip-hop and why I think we need more people like Kahlil Almustafa, order his book. Then go check him out on MySpace. He's talent that should be heard.