Lung King Heen: Hong Kong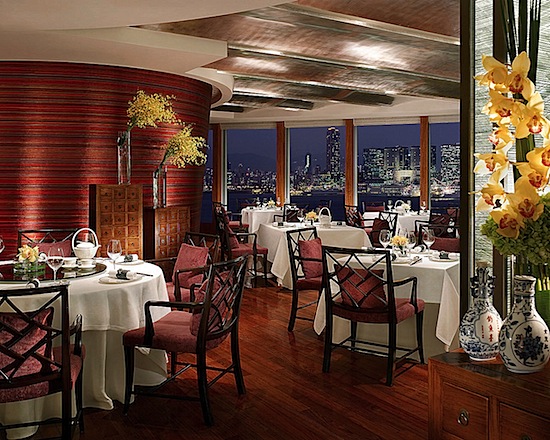 Asking a seasoned traveler for the name of a good Chinese restaurant is like searching online for a custom made shirt. With no chance to feel the hand of the fabric or compare that particular shade of blue you like with your skin tone, the search for right tastes and a healthy blend of ingredients is elusive at best and can often lead to a major disappointment if not a sour stomach. So, it was a rare and welcome discovery to sit down to the five-course near perfection offered up by Chef Chan Yan Tak at Lung King Heen in Hong Kong. Situated in the spectacular Four Seasons Hotel (the largest Four on the planet), this three star Michelin master holds court daily for diners whose adoration for dim sum bring them to the ongoing power lunch scene around the peaceful, spacious and beautifully arranged tables of this stellar restaurant. We passed up the initial invite for lunch so as to be able instead to savor a delicious dinner we will lovingly remember.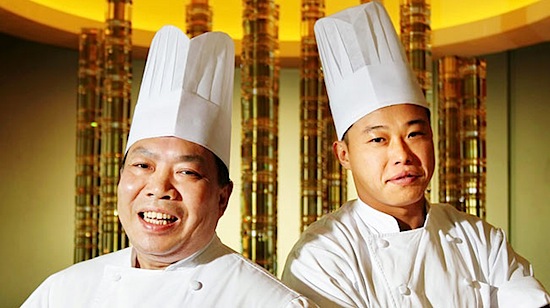 Well prepared to feast on a variety of Chef Chan's Cantonese signature dishes, we passed over the objectionable but requisite opening page of twelve shark's fin this and that to make our selection from the not-so-obvious fish and seafood, tofu, vegetable, rice and noodle offerings many diners consider side dishes. Carnivorous reviewers of Lung King Heen have already waxed eloquent about the numerous beef and pork entrees which are a standard in Hong Kong; however, our intention was to ascertain whether or not a globe-trotting vegetarian, vegan or macrobiotic diner could leave feeling healthy and sated without exceeding the credit card limit. Following the complimentary opener "" a nibble of bean curd floating atop three straight, bright string beans cleverly arranged to reflect the I Ching hexagram for Heaven, a platter of eight small servings of "Crispy Scallops with Fresh Pear" (pictured below) started the meal with sweet slices of fruit bonded to the tender seafood by a thin layer of rich shrimp pâté. Numbers play a big role in all of Hong Kong, the land of feng shui and good fortune, where three and eight carry promising significance. The scallop-pair combination was like a fine French pastry and made us giddy with anticipation.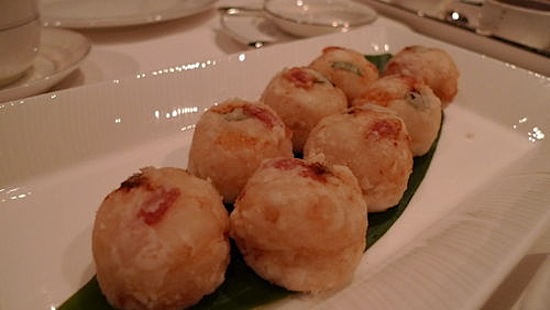 "Fried Rice with Lobster and Seafood" was equally divine; the rich taste of the rice combined well with sweet peas, tiny slivers of carrot delicately mixed with small bites of succulent lobster, prawn and crab. The result was tasty without being too filling, as much a light vegetable dish as one with seafood. From the page entitled "Organic, Vegetarian" we selected the "Five Grain Noodles and Assorted Vegetables", abandoning our gluten-free preference for this special occasion. Both full of flavor and rich, this was as fine a noodle dish as any we'd ever had, the accent on the organic solidly noticeable with each bite. Since most noodle dishes in lesser establishments are often buoyed by water chestnuts, bamboo shoots and Chinese cabbage, the absence of these staple fillers has to be acknowledged.
More familiar with tofu than most other patrons (my family has made our own for four decades), we were eager to try the "Crispy Tofu Sheet Rolls with Vegetables." We'd happily devour this dish, with a bowl of brown rice (not served here) and steamed greens, on a daily basis "" that is if we could prepare it as well as Chef Chan did. It was exceptionally appetizing and totally enjoyable.
Despite our sense that we'd ordered the right amount to share, we soon realized our dinner would pack well for a four-hour plane ride the next day. Our wish would be graciously granted as the remaining food was taken to the kitchen and boxed for travel. This gave us a chance to sample one of the eight dessert bean or fruit puddings and one of the eight innovative pastries offered on the menu. Accompanied by Fuding Silver Needle Tea, a surprising twist awaited us as we sampled the "Chilled Coconut Pudding with Hasma and Longan." While the "Red Bean Cream with Lotus Seed" was pleasant enough, the Coconut Pudding was truly unusual. It was a wholly unrecognizable taste: a sweet, light custardy soufflé layered between cool agar, somewhere between sparkling aspic and Japanese kanten.
Vegans, vegetarians and macros take note: don't settle for ordinary rice and bean curd just to save money in the great city of Hong Kong. Assuming they sample the beef, pork and shark's fin items on the menu, most people pay $150 – $200 each at Lung King Heen. Calculating that our meal served three people generously, the tab was $50 US per person, and we dined at the only three star Michelin Chinese restaurant in Asia. If that's not great value for money, then my tai chi is full of hungry ghosts.
The surprise ending? Hasma, known for its health-giving properties, are moist, chewy morsels with almost no taste. Hasma is said to be very good for the kidneys, lungs and women's skin as it contains many hormones and has a high lipid content. This is because it is a combination of fat and part of the reproductive area of a white-bellied frog from the north of China. Thus, as the meal ended, we conceded that when searching for healthy food, it just might not be essential to avoid all four-legged creatures that evolution moved out of the water. Astonished that we'd ingested our first amphibious body part, we both left of the same mind, feeling blessed that dinner at Lung King Heen was the best Chinese meal we'd ever had.