Mira Nameth's New Prints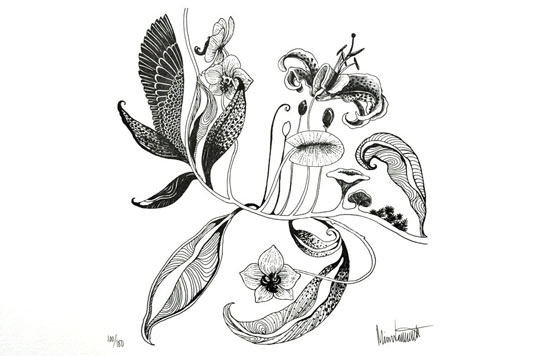 The lovely new website celebrating artist Mira Nameth's creations covers a broad range of illustrations and images broken down by prints, commercial, personal, fashion, vector, and hand-drawn work. (And you thought you had a lot on your "to do" list.) In addition to Rorschach flowers and "florafauna" commissions for Coke, Nameth's imaginative contributions include charcoal-colored dresses with shoulder and chest armor (armor being the operative word "" many of the details on the clothing are actually created with silk folds). The rust and deep gold colors of her new clothing line reflects her admitted "restrained, or at least concise, color palette."
When asked to reflect on why she's passionate about her work across mediums and continents, Nameth said, "A lot of the work feels sculptural and flat at the same time to me, and crafting that is very fulfilling. I like to surprise the person looking at a piece with something a bit unexpected, like the wing growing out of the multi-species plant or the peacock, where I wanted to create a new kind of peacock drawing with elements integrated into the tail." The former print can be yours through Etsy.
Related: Mira Nameth