Modern Design Function Exhibition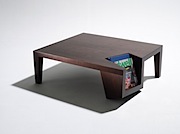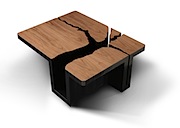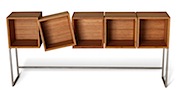 When emerging designers submitted hundreds of furniture pieces to Thursday's Modern Design Function exhibition at San Francisco's Design With Reach, judges from Dwell Magazine and the SF Museum of Modern Art selected not one but three pieces from local applicant Dylan Gold. Gold used plywoods, plyboo and other responsible materials to create Stink Tree, the Cornered Table and Twisted. The latter is a reaction to Gold's observation of how regimented people can be. "I like things that fall out of line and definitely buck the trend a little bit, but not so far as to lose balance," he said. "I wanted to see something hard like wood used in a way that people were not used to seeing it, like crossing a plane into the spatial boundaries of another piece."
The 2,200 square feet of work space that Gold shares with seven other creators is blocks away from the Potrero Hill DWR where the showcase will take place. (Talk about knowing where your purchases originate.) The wood and metalworking shop is also a network for the tenants' artist and fabricator friends "where just about anything can be made," the designer says.