Mutts Like Me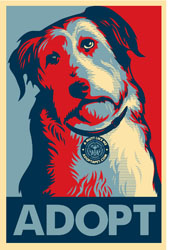 Needy dogs in shelters and Barack Obama are about to have something in common. In addition to being "mutts" like Obama, they are now also the subject of an iconic Shepard Fairey poster. As the new first family readies to move into the White House and adopt a shelter puppy, millions of other animals around the U.S. desperately await homes. Shepard was approached by Pia Salk, an animal advocate working with the non-profit Adopt-a-Pet.com, to collaborate on a way to help these animals.
Fairey says, "I'm a big believer in speaking up for all who suffer injustice, regardless of gender, race, sexual orientation or in this case, species!  And I'm all for adopting from the shelter. My wife and I share our home with two pooches,  George and Weezie, who is a rescue. They are the happy canine siblings to our two human daughters. The image I created for this print reminds me of a dog I had as kid, a mutt named Honey."
The image will be available in a limited run of 400 signed and numbered silk-screen prints later this month at muttslikeme.com. Proceeds from the sale will go to getting the nation's "furry, non-partisan residents" into homes. In true Shepard Fairey-fashion, you can also download free wheat-pasteable PDFs and digital-age web banners on the site. Get the word out!