New WANTS and NEEDS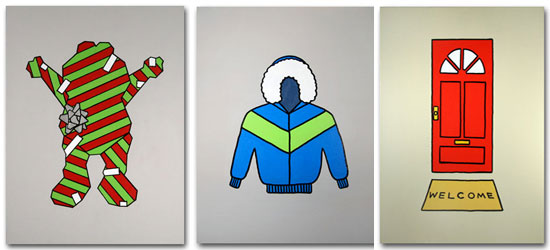 We totally love Justin Gignac and his girlfriend Christine's work, all of it from the garbage collection to the WANTS and NEEDS paintings. After their trip to Las Vegas they are giving back a little. They've just put up a some new works or the holidays. If you are new to their style, they make very simple and literal paintings of objects that relate to charities. The price of the painting is the price of the object — i.e. a $100 donation to Habitat for Humanity for a painting of a front door to a home that cost $100. These paintings go very quickly because they tend to be priced quite well. If you happen to pick up one of their NEED paintings, you could give the painting as a gift and along with a note about the charity aspect … that's a double gift!!
This year just to raise as much money possible, they have put three original works up on eBay for auction.
1. Home Sweet Home "" Sale goes to Habitat for Humanity
2. A New Toy "" Sale goes to Toys for Tots
3. A Good Meal "" Sales goes to Food Bank for NYC
If you can't win the auction, there are some more prints that should be available soon.