Obama Time Capsule Customizable Book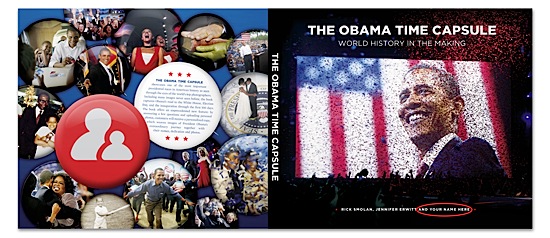 Yesterday, Rick Smolan released the top secret project he's been working on with HP: THE OBAMA TIME CAPSULE, a customizable book. Using the HP print-on-demand technology we last showed you with MagCloud, people can weave their own names, photos and messages into an historic large format book featuring the work of the world's leading photographers, graphic artists and writers.
The book can be extensively personalized by answering a few questions and uploading photos to the project website. THE OBAMA TIME CAPSULE offers readers seven different ways to personalize the book. If you've been courting your own ISBN, you'll come close with co-author credit on the front cover and a photograph of you on the back (as well as inside amongst celebrity supporters). Each collectible copy of the book is printed one at a time. Most publishing industry analysts agree that print-on-demand will be the publishing model of the future.
"From grass roots Facebook campaigns to viral YouTube videos, the Obama campaign took the presidential race to a new level in terms of personalization," said Smolan, co-founder of Against All Odds Productions (AAO). And the book follows suit: Using the Internet, publishers have fewer barriers to market and by only printing what is necessary, excess inventory and waste are eliminated.The OBAMA TIME CAPSULE (retail price $64.95) is now available exclusively through Amazon at an introductory price of $34.95. Additional sponsors for the book include Google, AOL, Facebook, Glam Media, Blurb, Microsoft, eMotion and NewPage.