Outdoor Research Fanatic Jacket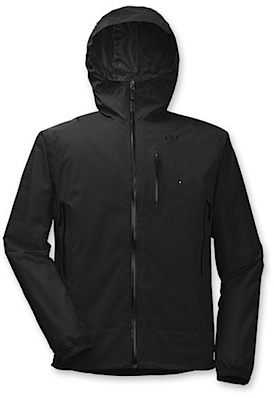 I love love love technical gear, especially jackets. Many might find this surprising since I've lived in California my whole life and our idea of a storm here is probably a walk in the park on the East coast. Regardless, we've been dealing with about 3 weeks of rainstorms here and since I like staying dry and hate carrying an umbrella, I knew I needed a jacket. In the past, i used to get big bulky jackets you'd see in the catalogs of companies the likes of REI and Patagonia, but this year I had a revelation. Since I am such a big fan of layering, why would I opt for a bulky jacket, knowing I'd likely get too hot in the car or office? Instead I went on a search for the a lightweight (maybe even packable) jacket with good water repelling properties and a hood.
I found the grail with the Outdoor Research Fanatic jacket. It weighs just 11 oz and uses Pertext Shield Fabric. I don't know the difference between it and eVent or Goretex but I do know water beads up right away on contact. The shell is very slim fitting, so don't expect to wear anything thicker than a hoody underneath. The wrists and waists are both slim, hugging your body, keeping heat and moisture out. The hood is full coverage, but remember to wait until you put it on before fully zipping up. That's another thing I like – the front goes up a little higher than your chin so you are snug. I've been known to go out in a storm with just a long sleeve baselayer or tshirt underneath and this shell on the outside. It's the perfect accessory and with it's trivial size and weight, you won't have to think twice about packing it.