Peace Bomb Bracelets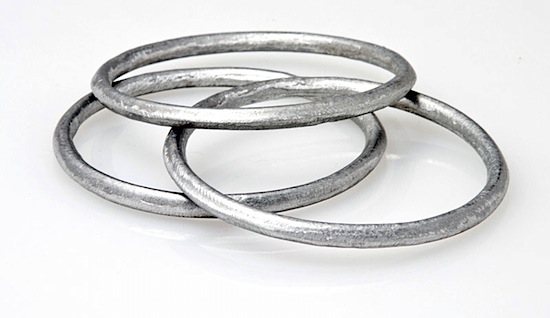 Check out this incredible Kickstarter project and support it if you can. I've just now become an Executive Producer. The bracelets shown here (and highlighted in the video) are made from scrap metal left from bomb scraps in Laos. During the Vietnam War, the US military dropped more bombs on supply routes in Laos than it did on all of Europe during World War II.
They can be purchased for only $15.  The Kickstarter project is to create a film documenting the process, the journey, and the work behind the rehabilitation there.
The peaceBOMB bracelet is made from Vietnam War-era bombs by rural artisans in a part of Laos heavily afflicted by the US bombardment during the Secret War, 1964-1973. We want to create video content that shows how, since the 70s, the artisans have taken a constructive approach to the devastation of war by repurposing bomb metal into spoons and, now, bracelets.
Each purchase supports income generation for artisan families in Naphia Village and helps them create sustainable businesses. A donation is also made to the community bank that funds infrastructure projects including roads, light poles and electricity for the school and other communal areas. Thanks Greta!