Touchdown at TED 2009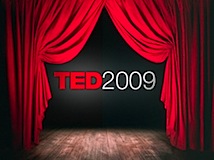 A hop, skip and a jump from London (I sat next to Thom Yorke on the plane here, by the way) and my mind-boggling conference circuit continues. Yes, I'm here in Long Beach for TED 2009. This is the 25th anniversary, and the first year it's in Long Beach, TED's new home. The speaker lineup is one of the best I've ever seen. My program tells me it's time to get ready for a "thrilling discovery, a revolutionary idea, a powerful invention, a spectacular piece of art, a first time performance." I'll be doing some live blogging from time to time as I see fit, and of course if you want to follow my inner monologue, Twitter is the place.
If you're here, drop me a line to grab a drink.